Community Outreach & Education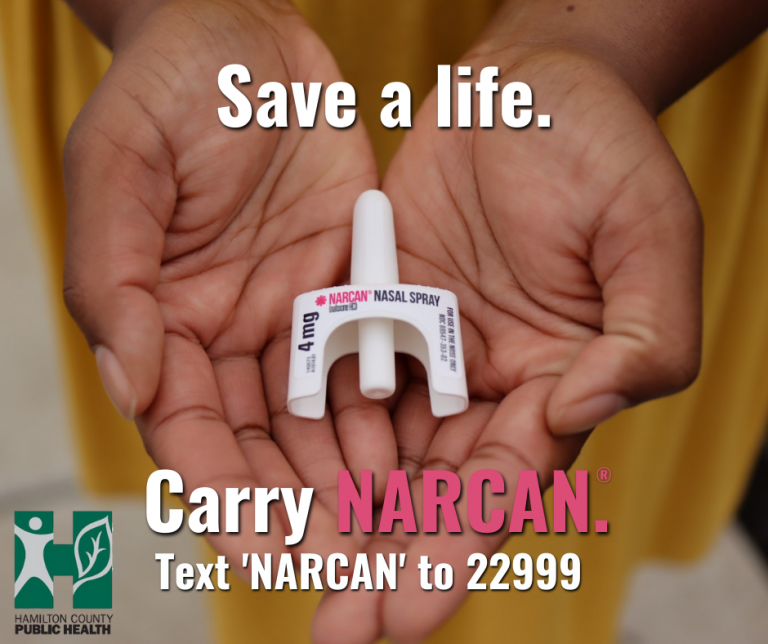 We distribute naloxone and offer training to residents, community partners, organizations, businesses, schools, etc. at no cost!
Mail order program (available to Hamilton County residents only). To obtain a kit through the mail please click this link.
We provide naloxone to Fire Departments, EMS, and Police Departments to use during emergencies.

Leave behind program: naloxone, fentanyl test strips, first aid supplies, and resource card that can be left at behind at the scene with an individual who has overdosed or their family members

Service entities: organizations can store naloxone as a part of their first aid kit for emergency use


If you live outside Hamilton County (OH), visit your local health department to find out where you can find NARCAN® in your area.
Project DAWN (Deaths Avoided With Naloxone): a community-based overdose education and naloxone distribution program. Project DAWN participants receive training on:
Recognizing the signs and symptoms of overdose
Distinguishing between different types of overdose
Performing rescue breathing
Calling emergency medical services
Administering intranasal Naloxone


For more information on Project DAWN, click here: https://www.odh.ohio.gov
Partnership with local bars, restaurants, music venues, and businesses to supply fentanyl test strips to their patrons. Containers with FTS packets are provided to the partners to be placed where they prefer in their establishment.
Available by mail – Text "FTS" to 22999 to order.


An example of the FTS distribution boxes we have placed across various establishments in Hamilton County is pictured (right).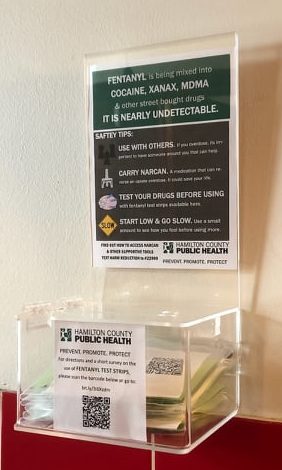 Safely dispose of unused or expired medications with deterra pouches. Deterra pouches eliminate threat of substance misuse and allow medications to be safely disposed of in the trash.
We offer deterra pouches to organizations and individuals in Hamilton County
Recovery Connections Forum
A thread for mental health and recovery professionals and those acquainted with to find support, resources, and community for helping people recover from addiction. This site serves a platform to network and build relationships that foster a culture of service and commitment. Members are encouraged to share any resources, events, career opportunities and continuing education events.